CCT2018 Live videos and DICOM data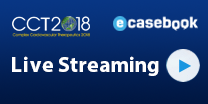 *Attention
e-casebook.com is a member-only website. Please register when you access for the first time. (free of charge)
Live videos and DICOM data from three of CCT2018 live transmission sites, the Cardiovascular Institute Hospital, Higashi Takarazuka Satoh Hospital and Sakurabashi Watanabe Hospital, are subject to upload on the e-casebook.com.
*Case treatment data of Tokeidai Memorial Hospital and Toyohashi Heart Center will not be released due to the incompletion of patient consent form regarding web uploading.
---
e-casebook.com は会員制のウェブサイトとなっております。初めてアクセスされる際には、無料の会員登録をお願いいたします。
CCT2018 のライブビデオ、DICOM公開対象施設は、心臓血管研究所付属病院、東宝塚さとう病院、桜橋渡辺病院の3病院です。
*時計台記念病院、豊橋ハートセンターにつきましては、Web掲載承認に関する患者様同意書の不備が確認されたため、2018での事後症例公開を見送りとさせていただくこととなりました。